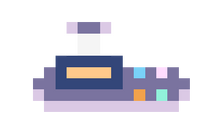 A modified maintenance scanner used to hijack card and take them off the grid. It originally belonged to Majid and was presumably used by him whilst he was a member of The Junks.
Some time after Majid left The Junks, it was stolen by a curious Gus. He then gave it to Alys, warning them not to let Majid know they had this.
The device and the car it was used to steal were given to Vincent Mensah as part of his demands for Hayden's research, who then presumably either kept it or sold it on the black market.
Ad blocker interference detected!
Wikia is a free-to-use site that makes money from advertising. We have a modified experience for viewers using ad blockers

Wikia is not accessible if you've made further modifications. Remove the custom ad blocker rule(s) and the page will load as expected.