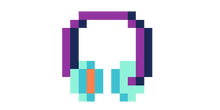 Those damn headphones. A pair of GX Ultra Beatz, "The top of the line in budget headwear." An inventory item. The GX Ultra Beatz are a budget pair of "smart" headphones, headphones that can be tuned into various objects to produce sound. This can range from pre-programmed samples, like advertisements, and noise generated from non-electrical objects, like plants.
Alys was commissioned to review these.
Ad blocker interference detected!
Wikia is a free-to-use site that makes money from advertising. We have a modified experience for viewers using ad blockers

Wikia is not accessible if you've made further modifications. Remove the custom ad blocker rule(s) and the page will load as expected.